Beauty from Japan. From our world to yours.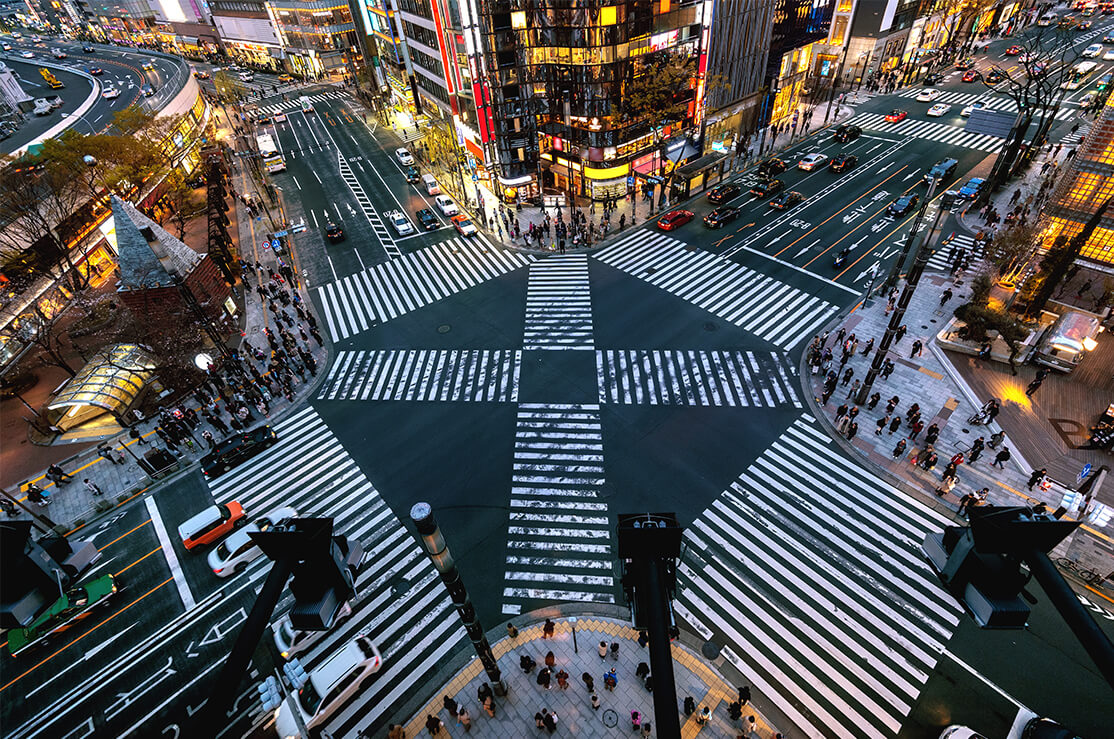 20 REASONS TO VISIT
GINZA Part Two
Discover the many reasons why you should visit this vibrant Japanese district.
Story by shiseido
The Japanese district of Ginza is a place that perfectly balances East and West. It has been home to SHISEIDO since 1872, when Japan's first Western-style pharmacy was founded here and, organized like a checkerboard of major streets and small alleys, Ginza has continuously reinvented itself as a town of commerce, information and culture. This is a place where old meets new and there's something exciting to discover on every corner. Here's everything you need to see and do on your next visit…
11

Visit a Street Symbolic of Ginza

NAMIKI-DORI AVE

1 to 8-chome Ginza, Chuo-ku, Tokyo (3rd street west of Ginza Chuo-dori) SHISIEDO Ginza Building 7-5-5 Ginza, Chuo-ku, Tokyo

At Namiki-dori Ave., part of the sidewalk is paved in red granite, lending it a distinct refinement. The road is lined with luxury stores and what is now a variety of trees but was once all willows—a sign of Ginza. Dine at the French restaurant L'OSIER, (pictured) whose name means "willow" in French.
12

Discover a One-of-a-kind Menu

FARO

You'll find this innovative Italian Ginza restaurant on the 10th floor of the Tokyo Ginza SHISEIDO building. Enjoy a menu that could only exist in Japan, where ingredients are sourced from artisan food producers and served on exclusive tableware. Must-tries include the Vegan menu and pastries created with flowers from Japan's mountain villages.
13

Take in the Japanese Art Scene

SHISEIDO GALLERY

The SHISEIDO Gallery—said to be Japan's oldest art gallery—was opened in 1919 by Shinzō Fukuhara and, over 100 years on, it remains a mecca for Ginza art, which transcends concept and genre. The Tsubaki-kai is a series of exhibitions held at the SHISEIDO Gallery by groups of elite art figures.
14

Partake in Japan's Cafe Culture

BONGEN COFFEE

Nestled away in a back alley near the edge of Ginza, Bongen brings together the unexpected combination of "bonsai and coffee"! Each cup of coffee is brewed using specially selected beans and roasting machines, and as you wait for your drink, you can enjoy the relaxing scent and the bonsai surrounding you.
15

Shop for Traditional Japanese Ceramics

GINZA NICHINICHI

In a space accented with soft light through shoji windows, you'll discover traditional vessels created by Japanese artists, including pieces by Shigaraki ceramist Shingo Ohira (pictured). "Their appeal is in the interesting ways they can be placed with each other. Since each vessel has its own dignity, all combinations are beautiful," says staff member Mieko Nemoto.
16

Relax in Ginza's Gardens

TOKYU PLAZA GINZA KIRIKO TERRACE

GINZA SIX GARDEN

When you're in a district as built-up as Ginza, you look to the rooftops for greenery. Kiriko Terrace (pictured), on the rooftop of Tokyu Plaza Ginza, offers plant-covered walls and a spectacular view of the sky. Alternatively, visit the rooftop of Ginza Six where, on a sunny day, you can even see Mount Fuji.
17

Eat Ramen

GINZA KAGARI HONTEN

GINZA KAZAMI

RAMEN MATSUTOMI

If you see a queue in Ginza, it's likely for ramen. There are three popular ramen shops in one small back alley that you must visit. Ginza Kagari Honten has been selected as a Bib Gourmand restaurant in the Michelin Guide; Ginza Kazami (pictured) is known for its unique soup featuring sake lees; and Ramen Matsutomi has been pleasing customers for more than 20 years.
18

Stay at a Luxury Hotel

TOKYO GINZA BAY HOTEL

Where once, capsule hotels leaned towards basic, now they're comfortably luxurious and catching the attention of stylish travellers. At Tokyo Ginza Bay Hotel, men and women have separate floors and some capsules even come with a TV. You'll even find traditional Japanese samue roomwear.
19

Enjoy the Nightlife

MARUGIN

In Corridor-gai, a collection of small eateries draw crowds, and the casual atmosphere is led by Ginza Marugin. Marugin is a stand-up izakaya (Japanese pub) where you can enjoy appetizers called otoshi, charcoal-grilled yakitori and ramen. Expect to drink late into the night and share a table with other customers when it's busy.
20

Reclaim your childhood

HAKUHINKAN TOY PARK

What began as a speciality toy store in 1982 is now a multi-level mecca of stuffed animals, toys and games. Staff select the toys for their own floors, which is why, on the stuffed animal floor, you'll find lesser-known primates such as gibbons, squirrel monkeys and long-nosed monkeys. It's a toy wonderland.