Beauty from Japan. From our world to yours.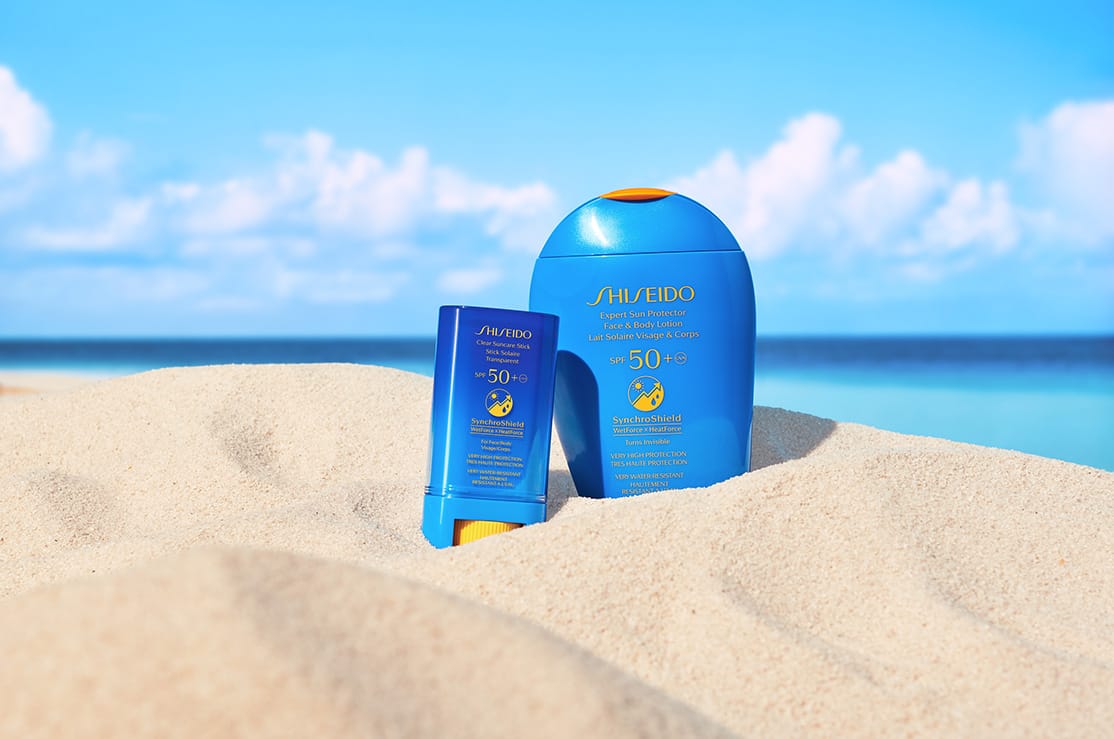 Say Yes To SPF. Your Sunscreen Questions, Answered
Confused about SPF? Here's everything you need to know
Story by Sarah Lillywhite
It's an annual ritual: you see those first rays of summer sunshine and realize you need to refresh last year's stock of sunscreens hiding at the back of your bathroom cupboard. But which to choose and how best to wear it? Here's your guide to SPF.
Why is SPF important?

It protects against UVB rays (which cause sunburn) and UVA rays (which cause skin damage, including aging, wrinkles, sun spots and cancer), so helps to keeps skin healthy, bright and youthful. Always choose a broad-spectrum sunscreen, which protects against both.

Can sunscreen help protect my skin from pollution?

According to the World Health Organization, nine in 10 of us are breathing highly polluted air. Air pollutants, including PM 2.5 that may come from mainly exhaust from factories and traffic, can add to the damaging effects of UV and result in further dryness.

SHISEIDO's new skincare formula ingredients,called NatureSurge Complex*, which is included in The Perfect Protector SPF50+ PA++++ helps to protect skin from urban pollutans** that cause oxidation*.
*in vitro
**dust and soot
When should I wear sunscreen, and how often should I re-apply?

You should wear sunscreen on your face every day, at home or on vacation, whatever your skin tone – even in winter, as UVA rays can still penetrate clouds. On sunny days, apply to all exposed areas and re-apply every 90-120 minutes, or immediately after swimming or sweating.

How much SPF should I use?

Most adults need about 1oz – a shot-glass' worth – of sunscreen to cover their whole body. For your face, approximately half a teaspoon should be enough to cover your face, neck and ears.
What sun protection factor do I need?

SPF refers to the length of time the product will protect you from harmful rays, compared with wearing no sunscreen. So, theoretically, an SPF of 50 will protect skin 50 times longer than wearing none at all.

What sunscreen should I wear for swimming/surfing/in the water?

A water resistant sunscreen, such as SHISEIDO The Perfect Protector SPF50+, is vital if you'll be swimming, surfing or even sweating. It contains SHISEIDO's famed SynchroShield™ technology which combines the benefits of Heatforce technology (that makes the veil stronger when exposed to heat) and Wetforce technology (that makes the veil stronger when exposed to water or perspiration).
What sunscreen should I use in the city?

SHISEIDO's new Perfect Protector does only offer enhanced protection against UVA and UVB, it also helps to defend skin against urban pollutants and dryness. It has been formulated with more than 50% skincare essence ingredients. On top of its moisturizing effect, it now features NatureSurge Complex*, which acts on pollution and oxidation*.
*in vitro

Can I reapply sunscreen over makeup?

You can wear a facial sunscreen under makeup and, with the right formula, you can reapply over your makeup too. Try SHISEIDO Clear Stick UV Protector SPF50+. This clever formula is completely transparent so not only does it not create a mess or transfer onto your clothing or bathing suits, but it can also be patted into skin, over makeup, whenever you need to top up your protection throughout the day.
The best SHISEIDO
sunscreens…
For an even skin tone:

SHISEIDO BB For Sports QD.Not only does this quick-drying, lightweight sunscreen contain Wetforce technology, meaning its veil of protection actually becomes stronger when it contains water, but it also delivers enough coverage to even out your skin tone and disguise blemishes.
For anti-aging:

SHISEIDO Future Solution LX Universal Defense E. Rich and luxurious, this anti-aging daily moisturizer gives all-round protection.
For swimming/the beach:

SHISEIDO Clear Stick UV Protector. Perfect on the go, this can be applied under or over makeup and is water-resistant for 80 minutes.