Beauty from Japan. From our world to yours.
A Man's Skin is Sensitive. Shiseido has Recently Identified 3 of its Weaknesses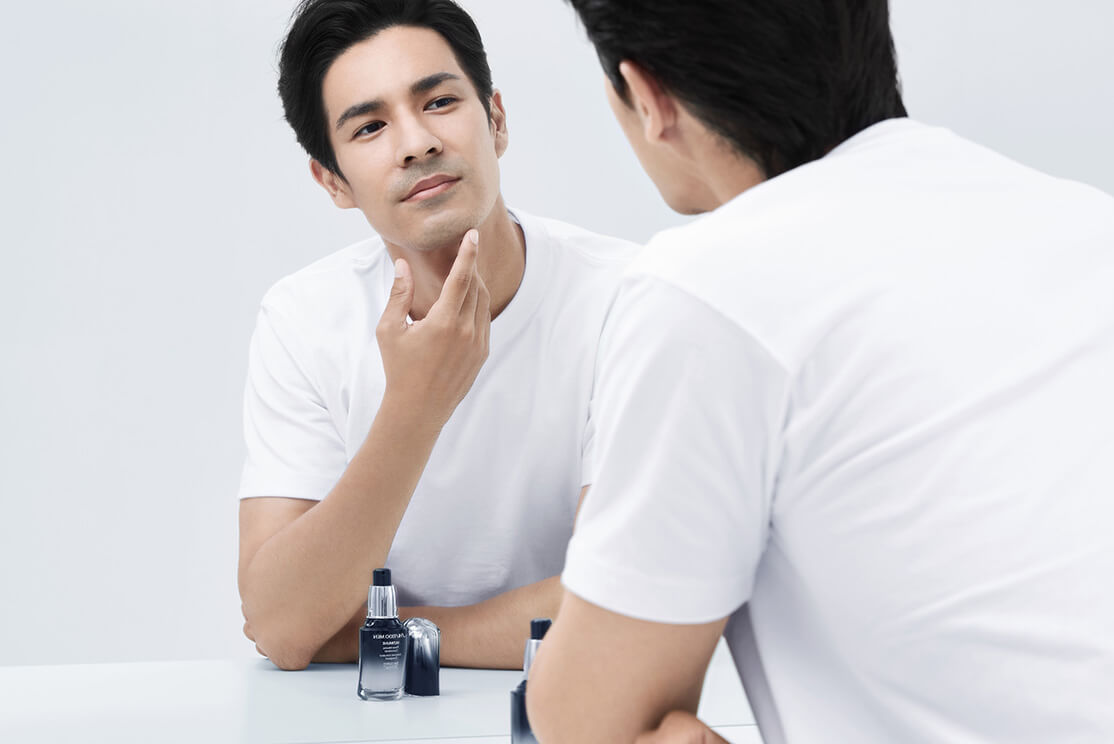 When it comes to skincare, it is important for men to use products specifically designed for them.
The reason for this is the characteristics of men's skin are different from those of women.
Many years of research conducted by Shiseido on men's skin has revealed a number of facts.
For example, compared to the skin of women, it has a lower barrier function,
generates more sebum but has lower moisture levels, and has more visible pores.
This time, we'll explain in more detail Shiseido's recent new discoveries.
Discovery #1: Instability of the Skin's Inner Defenses

Within our skin are cells called Langerhans cells, which regulate immunity. When a foreign substance invades the skin externally, the Langerhans cells recognize and eliminate it, resulting in an anti-inflammatory effect.
Men produce the hormone testosterone, which the body releases when exposed to the psychological stresses of daily life, such as work, personal relationships, and unhealthy lifestyles. Still, it is also released when exposed to external stressors such as UV light. This male sex hormone is not only related to muscle strength; it is also necessary for increased motivation and concentration. However, it is also known that testosterone suppresses the maturation of Langerhans cells, which means it also has a negative effect on the skin's immunity.
Discovery #2: Lower Antioxidant Capacity to Combat Aging

Oxidation is one of the primary causes of skin damage and aging. UV exposure, radiation, blue light, air pollution, and daily stress also have an impact, but our bodies naturally have the ability to combat the adverse effects of oxidative stress. Shiseido researched the antioxidant enzymes present in the stratum corneum* of both men and women and concluded that men have a lower level of antioxidant defense than women. In essence, men's skin is more susceptible to stressors than women's skin.
*The stratum corneum is the outer most layer of the skin.
Discovery #3: Men are More Susceptible to UV Damage

Shiseido also found that compared to women's skin, men's skin is more prone to inflammation at lower UV radiation levels. While inflammation includes redness and itching that cause roughness and other skin conditions, it also causes wrinkles and dark spots, which in turn can trigger signs of aging. This is why men need to take UV protection seriously.
Take on Your Skin's Vulnerabilities with Advanced Skincare

SHISEIDO MEN Ultimune Power Infusing Concentrate was designed to combat the 3 weaknesses of men's skin. This serum uses Triple TSUBAKI TECHNOLOGY™**, which consists of a combination of effective ingredients from Japanese camellia leaves, flowers, and seeds to help improve the skin's inner defenses, antioxidant power, and damage resistance. It is also formulated with Reishi Mushroom Extract, which helps with the maturation of Langerhans cells. SHISEIDO MEN Ultimune is cutting-edge skincare which combats weaknesses in the skin, nurturing a healthy, energetic, and confident look.

SHISEIDO MEN

Ultimune Power Infusing Concentrate

VIEW DETAILS