Beauty from Japan. From our world to yours.
Everyday skincare tips to avoid
"face mask tan lines"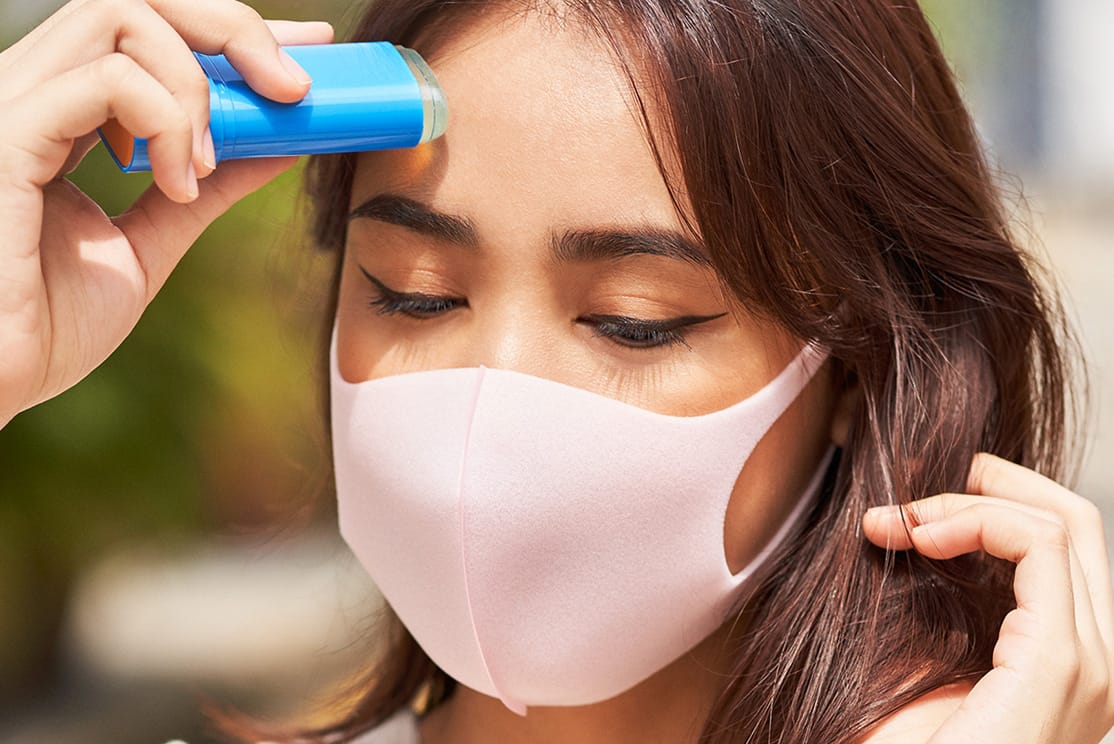 As we adjust to covering our faces on a regular basis,
you may not have considered that wearing a mask outdoors could result in embarrassing mask-shaped tan lines.
Since this is something you would probably like to avoid,
what important points should you consider to prevent this from happening?
Will wearing a mask prevent sunburns?

While it is true that the area of skin covered by a mask has less exposure to sunlight, wearing a mask doesn't guarantee complete UV protection. Therefore, you need to apply suncare to your entire face, not just the areas that aren't covered by your mask.
Prior to applying makeup in the morning, be sure to use a product with UV protection.

Between wearing masks that cover half the face and working from home, many people find they aren't applying their base makeup as heavily anymore, if at all. This means they're also probably not applying any type of sunscreen either, and that's not a good thing. The best way to remember your sunscreen is to use a product containing UV protection as the last step in your morning skincare routine. White Lucent Day Emulsion is a brightening moisturizer with SPF23. It brightens skin and diminishes the look of dark spots and unevenness while maintaining the moisturizing benefits of skincare, for skin that looks vibrant, dewy, and filled with moisture.

White Lucent Day Emulsion also pairs perfectly with Ultimune Power Infusing Concentrate. After cleansing, this powerful duo will leave your skin bright, full of moisture, protected from the sun and ready for makeup.
The key to maintaining all-day UV protection: Touch-ups.

Applying sunscreen isn't a "one and done" scenario. The best method is to re-apply every few hours, focusing on those areas that are easily prone to sweat and oil. Pay particular attention to those areas under your mask where moisture can build up, such as the nostrils and chin, or where there is increased friction, such as the bridge of the nose, face line and cheeks.

Using a stick-type sunscreen such as Clear Stick UV Protector is a no-mess way to quickly touch-up targeted areas with a simple twist. Since it's invisible, it can be used over foundation, for a perfect quick fix.
Once you remove your makeup, don't forget the aftercare.

Your nighttime skincare routine should ensure that the day's UV damage does not remain on your skin. One simple way to achieve this is to add a brightening serum to your standard routine. White Lucent Illuminating Micro-Spot Serum is a scientifically advanced brightening serum that helps reduce the look of dark spots, uneven skin tone, and dullness. It contains highly concentrated 4MSK, an ingredient that has been in development by Shiseido for over 26 years.

White Lucent Illuminating Micro-Spot Serum is powerful skincare that protects the skin from harmful UV rays during the day and ensures that damage does not remain in the skin at night. It works double duty so you can avoid face mask tan lines and have vibrant, luminous skin!