Beauty from Japan. From our world to yours.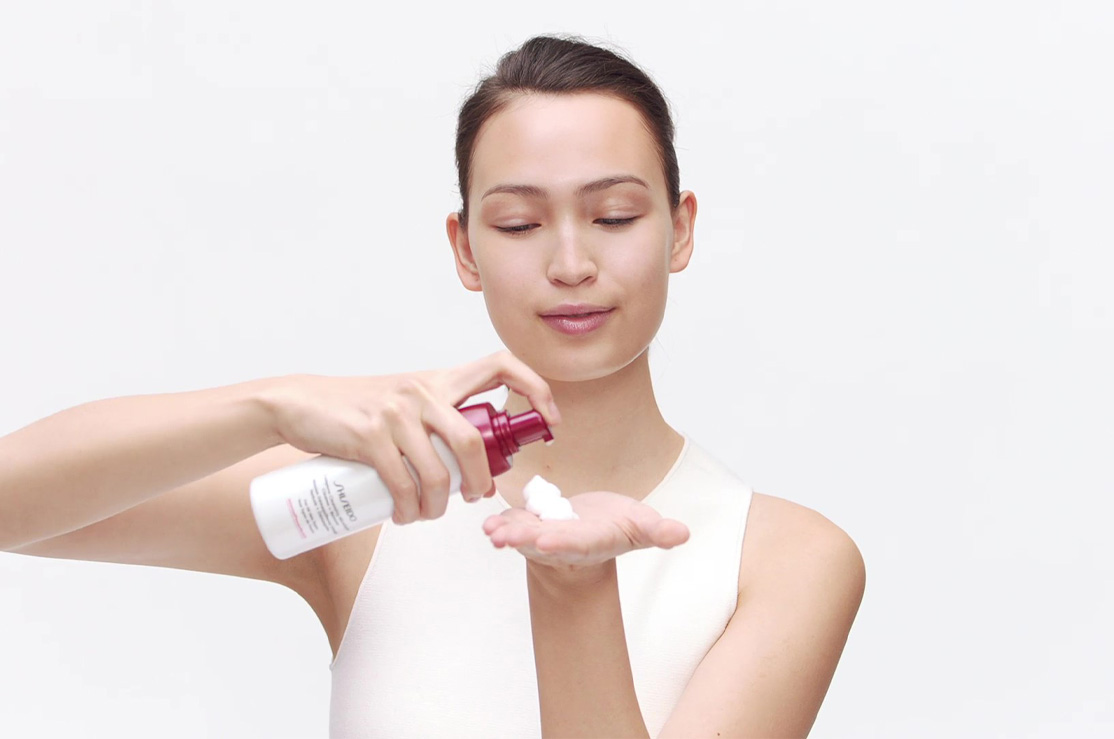 CLEANSING 101:
EVERYTHING YOU NEED TO KNOW
STORY BY DANIELLE FOX
Cleansing is one of the most important steps in your skincare regimen and, according to experts, there is a right way to cleanse and a wrong way too. Follow our failsafe rules to mastering the perfect cleanse. Better skin starts here…
WHY IS CLEANSING
SO IMPORTANT?

Cleansing is essential in removing dead skin cells, makeup, sunscreen, sweat, oil and pollution—all of which can clog pores, stop absorption of any products you are putting on and even trigger issues such as impaired barrier function and pigmentation.
HOW OFTEN
SHOULD YOU CLEANSE?

Cleansing at night is a non-negotiable to remove makeup, SPF and any dirt from the day. However, don't forget cleansing in the morning too, particularly if you have blemish-prone skin. Overnight, the skin eliminates dirt via the pores, so starting the day with a clean canvas removes the residue from the night before and allows any products you apply afterwards to be more easily absorbed and effective. "But those with dry skin and no excess oil in the T-zone can skip this step to protect their barrier function," says Dr Bunting. That barrier minimizes water loss and is essential for healthy-look and hydrated skin.
WHAT IS DOUBLE CLEANSING?

In an era of long-wear makeup formulas and the rise in urban pollution, double-cleansing should be seen as the new normal according to dermatologists. "First use an oil-based cleanser to remove cosmetics and sunscreen," says London based dermatologist Dr Sam Bunting. "Then, see your second cleanser as an exfoliating step to remove dead skin cells and other 'micro' matter such as particles of pollution."

CAN YOU OVER-CLEANSE
YOUR SKIN?

The problem with multiple cleansing steps is that this disturbs your skin barrier function—and this is not good. It's important to realize that "squeaky clean" skin means you've gone too far. The key, according to Dr Bunting, is to take your time, apply your product to damp skin, massage it in, give it a full minute to work, then rinse clear with tepid (not hot) water and asses whether you need to gently cleanse again.
HOW DO YOU CHOOSE
THE RIGHT FACIAL CLEANSER?

Which cleanser you choose is very much down to personal preference, but the general rule is as follows:
SHISEIDO
Complete Cleansing Micro Foam

A frothy face wash that whisks away makeup and impurities such as dirt and dead cell without stripping skin of essential moisture.
SHISEIDO
Clarifying Cleansing Foam

For all skin types. A rich foaming cleanser to effectively remove impurities, excess skin-dulling surface cells, pollutants and oxidized substances. Skin feels soft and radiant, its texture refined.
SHISEIDO
Deep Cleansing Foam

For oily to blemish-prone skin. A deeply freshening, multi-functional cleansing foam that effectively lifts away pore clogging impurities, oil, pollutants and oxidized substances.
SHISEIDO
Extra Rich Cleansing Milk

For dry skin. A milk cleanser that transforms into an airy lather, effectively removing impurities, pollutants and oxidized substances. Skin is protected while the texture is refined, for a dewy feel.